Recovery Brisbane Business and Jobs Expo
Brought to you by QOIN and 18 local business industry groups and sponsors to help businesses get up and go and grow at this critical time.
NOW is the time to come together in a sales focused environment to GET OUR BUSINESSES GOING AND GROWING.
This event is the place to connect – promote – sell your products and services to local business owners.
To assist with the recovery of businesses and provide employment opportunities and up to date information.
EXHIBIT
We are now fully booked with 230 expo stands.
WHY ARE THESE FANTASTIC NETWORKING EVENTS?
Develop business leads and new customers, build brand awareness and expand business opportunities.

Discover new ideas and new technology to help solve business owners' challenges.

Gain invaluable industry knowledge and insights into larger markets both in Australia and internationally.

Network with industry peers and connect with suppliers, service providers, industry experts and Government specialist departments.

Get the latest education and training and employment information to assist you for your next employment opportunity. 
Everyone is welcome – because we all need MORE business at this critical time.
 Come with an intent to buy – bring your business cards – no flyers
SUPPORT LOCAL 
 If you are new to business
Thinking of starting a business
You are in business – regardless if you are big or small.
Are a business professional looking for more connections
Or just want to come along and support local business
——————————————
ENTRY IS BY A GOLD COIN DONATION
This is a managed business event – everyone must register to attend
BOOK YOUR TICKETS HERE   www.smallbusinessexpos.com.au/ticketing/
Date:       Wednesday 11 November
Time:      10am to 4pm
Venue:    Hibiscus Sports Centre
Address: 90 Klumpp Road, Upper Mt Gravatt
 ——————————————
 ⭐ JOBS SPEAKER WORKSHOPS
Only five speaker spots available – if you benefit business owners or professionals hit hard by Covid 19, then put up your hand and be a presenter.
These spots come with their own benefits to promote your products and or services. For a speaker pack email paulabrand@smallbusinessexpos.com.au
 The Jobs Area will include employment agencies, disability employment agencies, group training, mental health, resume writing etc. These stands are part subsidised. Employers who do have jobs available can come along and put jobs on the jobs boards for people to see and even conduct interviews. There will be Jobs Workshops to attend as well. Speaking opportunities are also available. The jobs expo area is designed for business owners and staff who have been displaced due to Covid 19 as well as long term unemployed.
⭐ VOICE TO YOUR BUSINESS SPEAKER WORKSHOPS
THESE ARE NOW FULL – for any business who wants to promote their products and services and who has experience selling from stage. These spots come with their own benefits to promote your products and or services. For a speaker pack email paulabrand@smallbusinessexpos.com.au. These spots include an exhibition stand.
⭐ TINA X COUCH SPEAKER PANEL
Our Tina X Talks are highly successful with an On the Couch format. If you are a woman in business who have loads of valuable information to share and would like to be promoted to thousands of businesses, then apply for a Tina X Talk spot. A special event for businesswomen at the expo to promote their products and services.
As a Tina-X Speaker, it is highly likely that the engaged audience will want to spend more time with you, for that reason you are required to book a stand at the EXPO and direct them to visit your stand after you speak.
Apply here: https://theaudaciousagency.com/tinax/. Proudly sponsored and managed by the Audacious Agency.
CELEBRATE  BUSINESS WITH US 
We have had a tough time with thousands of businesses struggling, lets celebrate our resilience and pride of our local business community.
 ⭐ Head Shot Photos – need a new photo ? Get a free head shot done for your resume or social media
⭐ Information by the Queensland Office of Small Business and Brisbane City Council
⭐ BUSINESS LOUNGE hosted by QOIN
⭐ Food Trucks and Live Entertainment from 11am to 3pm
⭐ Random Acts of Entertainment – we love surprising you at our expos
⭐ Let us help our economy get up and going.
WHO ATTENDS?
Start ups – giving you the confidence to step up & promote – we even train you
Mature business – who supply to small business and or provide services and products to the home eg: entertainment, travel, furniture, building, pest control.
A great platform to launch new products and services
Invisible businesses who are online, mobile, franchise businesses or home based business – that can be local or operating across Queensland or Australia.
People who have been impacted by Covid 19 and seek more employment and training opportunities.
PRINCIPAL PARTNER – QOIN
Bartecard is the Principal Partner for all Queensland Small Business Expo's this year, Bartercard is proud to announce our continuing support for what we believe are the number one business expos in Queensland.
 This year, we will be profiling our new brand Qoin, the latest digital currency offering to the global market offering a new level of opportunity to all SME's. https://qoin.world/
"Our continuing commitment is testament to Paula Brand and her team's tireless efforts in bringing real economic outcomes to all small business' that attend these Expo's either as a buyer or seller, said Andrew Barker, Chief Marketing Officer for Qoin".
 "We have had the pleasure of working with Paula and watching these events grow and also watching her continued support from local councils and business industry groups throughout South East Queensland."
"In 2020, we are excited to be bringing a brand-new opportunity to the Small Business community in Queensland and look forward to the opportunities to launch, educate and discuss our new digital currency with all business owners."
 COME TO THE QOIN LOUNGE at the Expo to learn how QOIN can help your business.
 PARKING OPTIONS
Park and Ride service from Mt Gravatt Showgrounds – entrance via Logan Road 


1644 Logan Rd, Mount Gravatt – you will see our Expo PARKING SIGNS and a parking attendant will be there to assist you with parking. The Bus loops return every 3-5 minutes and you arrive at the doorstep of the Expo Venue. The most fast and efficient option to park your car.

Klumpp Road Park and Ride

– 72 Klumpp Road, adjacent to the Hibiscus Sports Centre. FREE parking, approx. 80 carparks. If full proceed to option 1.

On premises at Hibiscus Sports Centre

– 90 Klumpp Road, Upper Mt Gravatt. Limited parking onsite.

Side Street Parking

. Limited parking options on side streets, easier to find a park in the afternoon.
Entry by Gold Coin Donation 
—————————————————————————–
PROUDLY SUPPORTED BY
QOIN
Bartercard Brisbane
Brisbane City Council
KEAP
Your Business Optimised
Limba Loans
Valley Chamber of Commerce
BforB Networking
Outsourced HR Solution
AdMarketing Australia
Brisbane West Chamber of Commerce
Southside Chamber of Commerce
Wild Zebra Marketing and Promotional Gifts
4Business Group
SplitChek
Printing Brisbane
HELP Employment and Training
Regional Development Australia
Brisbane North Chamber of Commerce
South East Brisbane Chamber of Commerce
The Audacious Agency
WFI Insurance
BNI
Beinc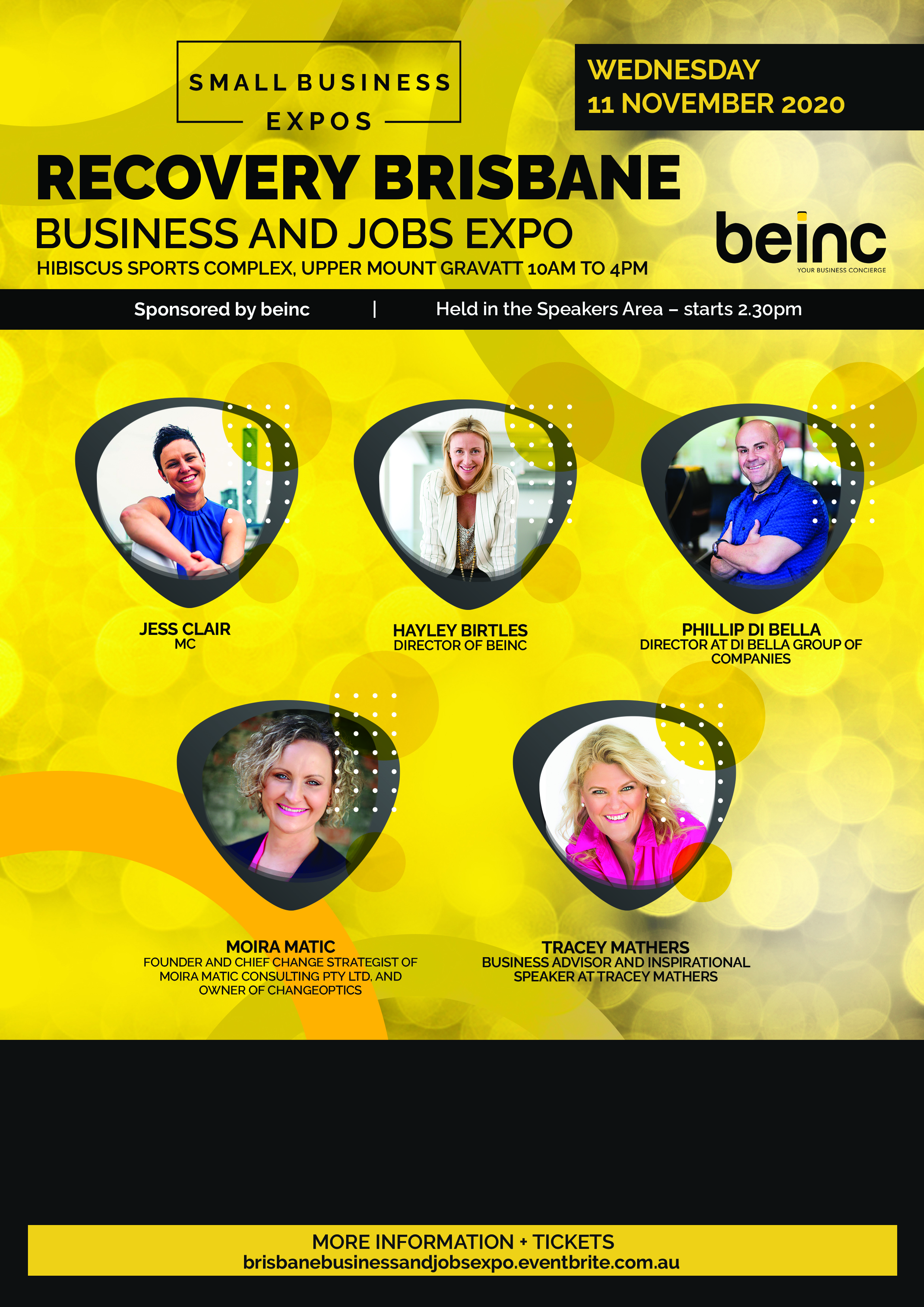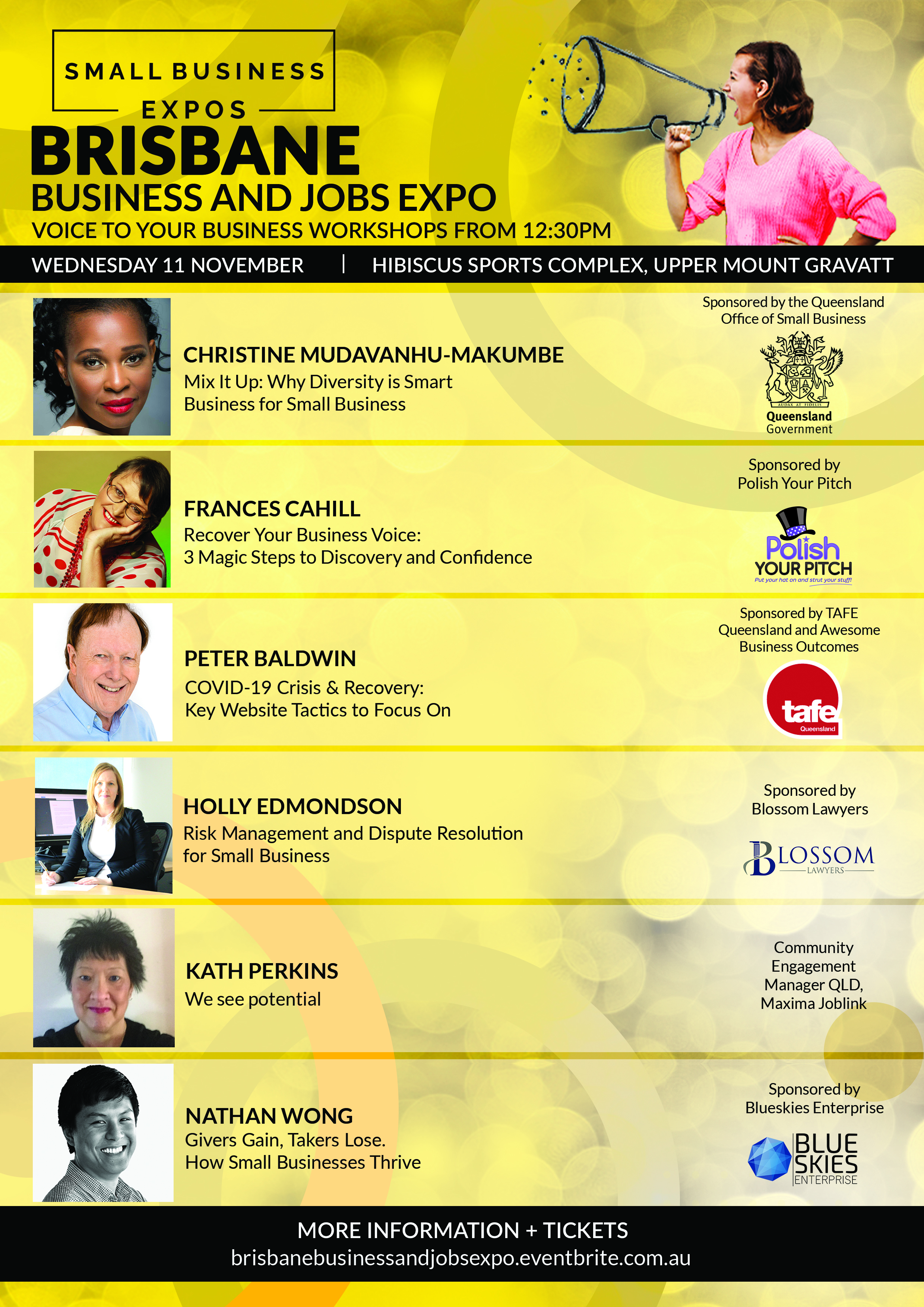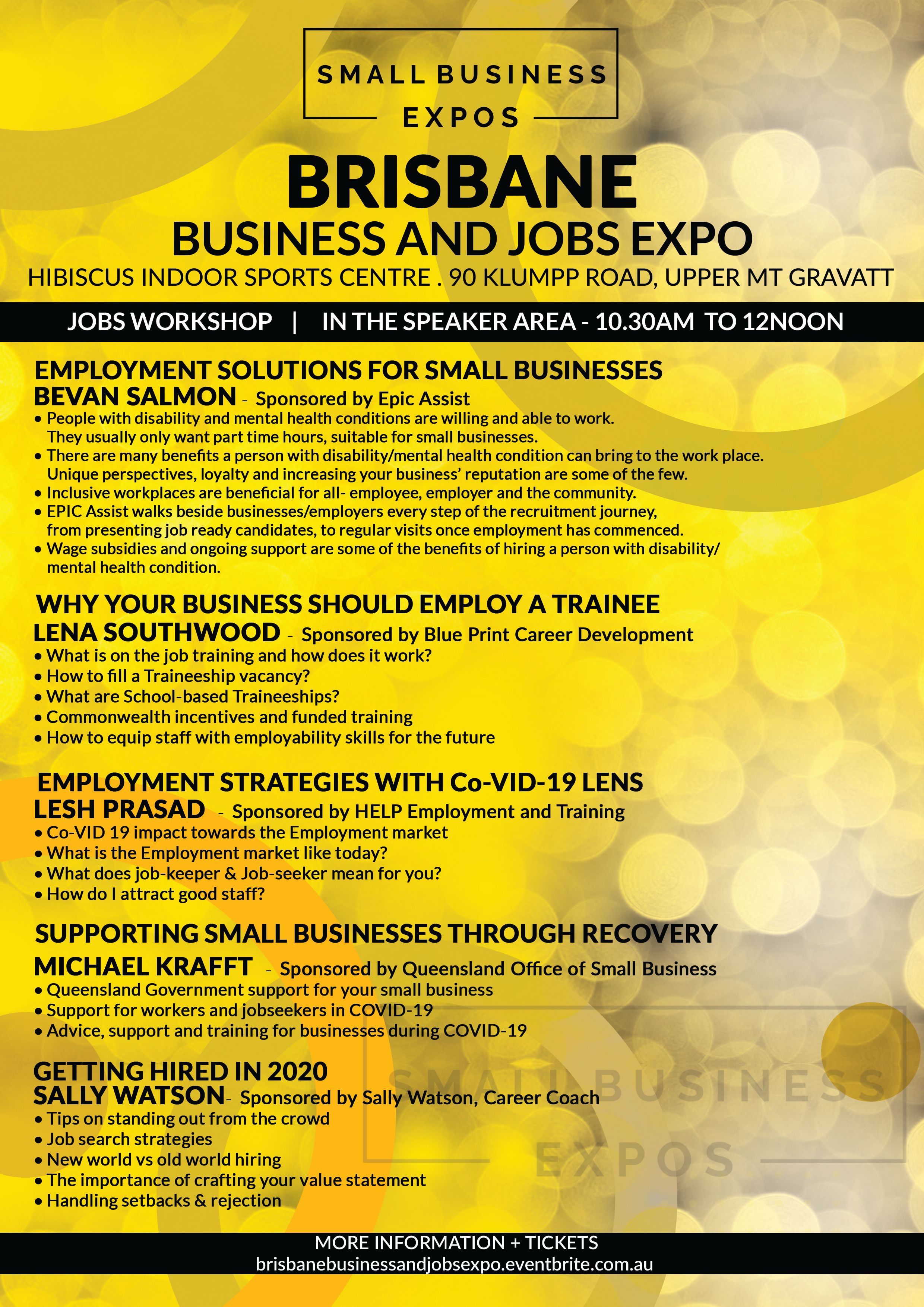 QUESTIONS?
Paula Brand
CEO 
Small Business Expos
0475 411 793
paulabrand@smallbusinessexpos.com.au