Recovery Redlands Coast Business and Jobs Expo
Proudly supported by the Redland City Council and the Redlands Coast Chamber of Commerce.
Brought to you by QOIN and 14 local business industry groups and sponsors so you can do BIGGER business BETTER.
This is your opportunity to connect – promote – sell your products and services to hundreds of local business owners which is so important because
NOW is the time to come together in a sales focused environment to GET MORE CUSTOMERS !
The BIGGEST Business to Business Marketplace held in the Redlands Coast and Logan regions.
BOOK YOUR TICKETS HERE https://www.smallbusinessexpos.com.au/ticketing/
SPEAKER PROGRAMS – see below
Date:       Thursday 19th November 2020 – 10am to 4pm
Venue:    Alexandra Hills Hotel + Convention Centre
Address: McDonald Road + Finucane Road, Alexandra Hills
This expo has been successfully held in Logan for the past three years NOW we combine the Redlands Coast region with the Logan and North
Gold Coast regions for the first time for the Redlands Coast Business Expo so you can reach more businesses.
—————————————————————————–
EXHIBITOR INFORMATION
APPLY NOW

Part Funded Expo Stands 
Apply for a Part Funded Expo Stand – if you are still doing okay but you need more sales leads, then apply
for a part funded expo stand. Apply now HERE . Limited availability
Important Notes
All expo stand options include our fantastic  pre expo training workshop "How to Sell from an Expo stand". All staff
who are helping on the stand are welcome to attend. This workshop is held 4 weeks prior to the Expo so that you
have enough time to gain valuable information in how to prepare for the day.  We have trained over 3000 exhibitors since 2014.
ACTION TO BOOK YOUR STAND ONLINE 
1. Go to the TAB Page called Secure Your Spot
2. Use the online booking form to complete your BOOKING HERE
Please minimise the drop down info pack request pop up and go to the Secure Your Spot Page to apply.
Please read the terms and conditions on the Secure Your Spot page.
More information about the expo program can be found in the info pack, get one downloaded at www.smallbusinessexpos.com.au
2020 / 2021 Business and Jobs Expo Program
Thursday 15th October          Gold Coast Business and Jobs Expo – Carrara Indoor Sports Centre
Thursday 29th October          Moreton Bay Region Business + Jobs Expo – The Hope Centre, Rothwell
Wednesday 11 November     Brisbane Business and Jobs Expo – Hibiscus Indoor Sports Centre, Mt Gravatt
Thursday 19 November         Redland Coast Business and Jobs Expo – Alexandra Hills Hotel and Conference Centre
Thursday 18 March                Brisbane West Business and Jobs Expo – Riverlife Centre, 17 Mile Rocks
Thursday 13th May                2021 Brisbane Business and Jobs Expo – Hibiscus Sports Centre – 13 May 2021
ALWAYS SOMETHING NEW AT THE EXPOS.
FREE Voice to Your Business Speaker Program – showcasing local businesses – Program released shortly
FREE TINAx Talks Panel Sessions – smashing out information + inspiration for Women in Business
FREE Jobs Workshops
FREE Head Shot Hub Photos for your social media
FREE Mentor Hub by the Queensland Office of Small Business
FREE Massage and Brow Waxing
FREE Council advice for businesses
Food Trucks and Live Entertainment
Random Acts of Entertainment – Always Surprising at whats at the expo.
Bring Your Business Cards and lets DO BUSINESS!
PROUDLY SUPPORTED BY
Redland City Council
QOIN
Bartercard Brisbane
Redlands Coast Chamber of Commerce
Griffith University
Bayside Women in Business
Beenleigh Yatala Chamber of Commerce
Department of Employment, Small Business and Training
Bonney Douglas Design
Griffith University
AdMarketing Australia
Wild Zebra Marketing and Promotional Gifts
HELP Employment and Training
Redland City Bulletin
Rotary
Logan Regional Chamber of Commerce
Regional Development Australia Logan and Redlands
BforB Logan and Redlands
BNI Logan and Redlands Chapters
Southern Moreton Bay Islands Chamber of Commerce
North Stradbroke Island Chamber of Commerce
The Audacious Agency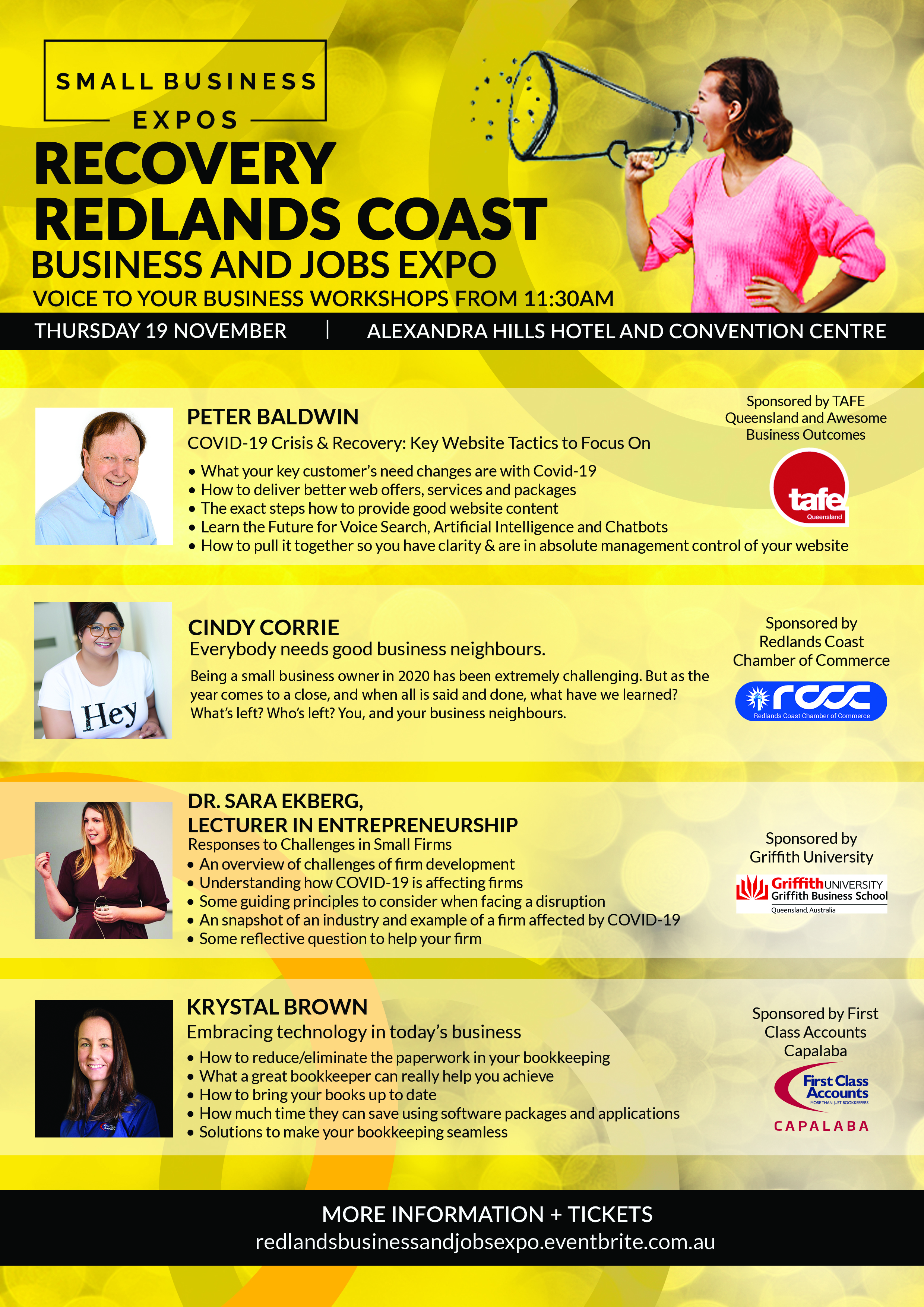 QUESTIONS?
Paula Brand
CEO
Small Business Expos
Phone 0475 411 793
Email paulabrand@smallbusinessexpos.com.au