Floor Plan + Exhibitor List
Gold Coast Business And Jobs Expo
SET UP EXHIBITOR INFORMATION
2021 Gold Coast Business and Jobs Expo
We are excited to see the Expo is almost here
Carrara Indoor Sports Centre
296 Nerang Broadbeach Rd, Carrara QLD 4211
24 June 10am to 4pm 
Here are a few videos that showcase our expos last year, if you have not been to one of our expos – https://youtu.be/lr7n_S6m6M8
and the Moreton Expo that was held a few weeks ago – https://youtu.be/s0BcDViuLzE.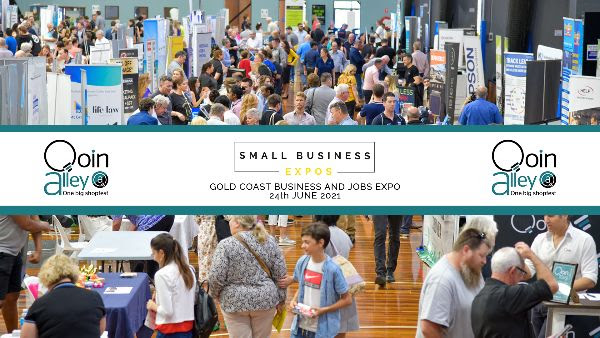 Official Opening 
The Official Opening is at 9.30am starting with exhibitor networking and a short speech program with Government dignitaries attending. It will be in the main expo auditorium in the speaker area. We will announce over the PA system when this is commencing. It is a fun way to kick off the day and to get to meet your fellow exhibitors and local  VIPs and politicians.
Speaker Program
The Speaker Program is on the website to view at :
https://smallbusinessexpos.com.au/location/gold-coast-small-business-expo/
We do not take registrations for the workshop sessions, its first in first in to take seats approach.
Please remember to print and laminate your QR codes so people can see you are trading with Qoin.
If you are a Qoin agent or promoter, you are not able to solicit new Qoin merchant business.
There are no powered sites available. If you did not book and pay for power, it is too late to book it now.
We are sorry for any inconvenience caused.
If you have booked a powered stand, remember your power cord and your power board – must have been tested and tagged, as a requirement of this Gold Coast City Council venue. If your cord and board are not tested, our Power person David Thorndkye can do this for $10 upon set up when you bump in the day prior or on the morning.
Tips to promote your Exhibition Stand
– This is you POP UP SHOP
Do Facebook Lives on the day – it's best to do this in the morning when you are fresh
Promote your competitions and prizes – if you have them – via Facebook a few days before the expo.
Invite all of your business customers to come and see you at your stand, it safes you a lot of time connecting this way than you having to chase them up – bring them to YOU.
Draw your prizes via Facebook Live at the end of the expo.
FINALLY if you have not shared the text and image to your social media, linked in or customers, please do so now.   Remember many businesses are struggling and they may want to join you at the expo.
Covid Rules for You to Follow
ONLY 2 people at your stand at any one time, one in front of the trestle table and one behind.
We have still allocated 2 chairs at your stand, but it is a requirement that you sit in the same chair all day while at your stand for the duration of the expo.
Please have one (1) person at your stand and then one staff person (if you have one) can visit the other exhibitors or attend the presentations.
When talking to stand visitors, ensure you are abiding by the 1.5m physical distancing requirement.
If you have staff assisting, we suggest you consider rostering staff for 2 hours at a time.
Everyone  who comes on site, will need to register using the www.safevisit.com.au
platform which is run by a simple QR code on your phone.
We have selected the easiest to use and best platform that is out there. You do not need to register staff to attend prior to the day.  
We will log everyone who comes on site when they arrive using the safevisit platform.
If you do not log in via Safevisit, or legibly complete a manual sign in you will not be permitted to enter.
You will also not be permitted to enter if you have:
returned from overseas or within a COVID-19 hotspot or COVID exposure site in the last 14 days
been asked to self-isolate in the last 14 days
symptoms of an influenza like illness including fever OR symptoms of acute respiratory infection (e.g. shortness of breath, cough, sore throat)
been in close contact with a confirmed case of COVID-19 (either in the community or at work) or with someone awaiting the results of COVID-19 testing within the past 14 days.
There will be one entrance and one exit and a Security Concierge will be in place to assist with physical distancing rules of 1.5m and to disperse any crowd build up.
We will place directional arrows for the expo areas to assist with people flow.
We advise you to bring hand sanitizer and have it available at your stand for anyone who wishes to use it.
We also have hand sanitizer stations located at the entrance and throughout the venue.
Pens – ask people to supply their own OR have a pile for people to use, limit multi usage.
If you are re-using pens you should disinfect them with sanitiser before reuse.
You should all have your own Covid safe plans for your specific products and services,
if you have specific Covid questions email paulabrand@smallbusinessexpos.com.au.
The most important people at our expos are YOU
The most important people at the expo are YOU and YOUR BUSINESS and I am sure you need MORE business from new customers but also your existing customer base.
So please make sure you promote yourself prior to the expo and on the day that you are exhibiting. Just because we are small businesses does not mean we cannot think BIG when it comes to promotion and now IS the most important time for us to promote ourselves.
If we work together – be helpful to each other – have a GREAT attitude and prepare – we will ALL have a fantastic SELL SELL SELL day. Let's get to it.
See you at the Expo
Paula Brand, and the Small Business Expo Team
Issues, Questions, Concerns, email us  paulabrand@smallbusinessexpos.com.au asap.
Partners & Sponsors