The story behind Small Business Expos
Small Business Expos are one day pop up B2B marketplaces focused on generating solid sales leads for small business owners. Run by a dedicated Expo Team, our staff includes an event manager, sales manager, sound and audio-visual manager, speaker manager and public relations and marketing interns.
Our Expos currently run in six regions across South East Queensland, including: Brisbane, Moreton Bay Region, Redlands Coast, Gold Coast, Brisbane West, Toowoomba.
What the Small Business Expos have achieved in six years:
3,000 small ­­­business owners have booked exhibition stands and 20,000 visitors have attended.
Over $20 Million in new business revenue generated for our sponsors and exhibitors over the past 4 years. We use post expo surveys to quantify the results and we issue the results to all trade table holders after each Expo.
Engaged 300 top speakers providing Expo attendees with the latest and most up-to-date trends and information to help them grow their businesses.
Delivered skills transfers through our ''How to Sell from an Exhibition Stand' Workshops to over 1,600 business owners.
Supported 30 charities.
It is the largest business to business grassroots expo program in Australia.
Awarded an International Stevie Award in 2019 for Small Business Champion
Awarded the 2019 Women in Business Small Business Champion – Finalist
At the Business and Jobs Expos, business owners and professionals can.
Develop business leads and new customers, build brand awareness and expand business opportunities.
Discover new ideas and new technology to help solve business owners' challenges.
Gain invaluable industry knowledge and insights into larger markets both in Australia and internationally.
Network with industry peers and connect with suppliers, service providers, industry experts and Government specialist departments.
Connect with potential venture capitalists and investors to potentially help expand businesses.
Seek information from job support agencies and related businesses as well as employment opportunities
The Business and Jobs Expos facilitates the showcasing of new and innovative ideas to manage and grow businesses across a broad range of industry sectors.
The expos include networking activities, tech hubs as well as informative speaker workshops and are supported by the Federal, State and Local Governments and 65 business industry groups and sponsors.
Collaborative B2B Marketplaces that produce financial outcomes 
The Business and Jobs Expos are the PREMIUM BUSINESS EVENTS in South East Queensland.
With newly unemployed at 1 million and closed business costing Australia $4 billion a day, now is the time to get grassroots in the community where business owners live and work and their kids go to school. Small business is the cornerstone of our community and we must work together to help put the economy on the front foot again.
In Australia today, the market sector features approximately 150 trade shows each year. Very few trade shows (except for franchise shows) are focused on broad (often neglected) small business sectors, and even fewer on small and medium sized business.
The opportunity as identified by Paula Brand is to create a series of one day events to enable a showcase for predominantly small and medium sized businesses to connect and grow. These one-day "pop-up" events in six South East Queensland Centres enable business owners to meet, connect, learn, network and gain expert advice, and discover profitable business ideas.
The aim of the Business and Jobs Expos is for economic outcomes, collaboration and hope for businesses and displaced people due to Covid 19.
Small Business in Australia 
Small business plays a vital role in the Australian economy, with approximately 3.2 million small businesses employing 5.5 million Australians.
Small businesses contribute more than $380 billion to the economy. Australian Government Research ATO 2017.
ASIC regulates many businesses that are 'small proprietary companies', which means a company with two out of these three characteristics:
An annual revenue of less than $25 million,
Fewer than 50 employees at the end of the financial year, and
Consolidated gross assets of less than $12.5 million at the end of the financial year.
The Australian Taxation Office defines a small business as one that has annual revenue turnover (excluding GST) of less than $2 million. Fair Work Australia defines a small business as one that has less than 15 employees. Despite these differences, many regulators have informally adopted the definition of 'small business', used by the Australian Bureau of Statistics (ABS), which is a business that employs fewer than 20 people.
Small Business Matters in Australia
Of all Australian companies and businesses registered, 96% are viewed as small businesses with fewer than 20 employees.
Small businesses make a significant contribution to the Australian economy. They employ half of Australia's workforce and make up one fifth of Australia's gross domestic product. One of our main objectives is to improve the Australian financial system. Regulating small business is an integral part of this.
More than 2 million small businesses in Australia employ less than 19 people, accounting for 97 per cent of all Australian businesses by employee size, and there were 51,000 medium sized businesses, employing 20 to 199 employees, approx. 2.4 percent of all companies.
ABOUT THE SMALL BUSINESS EXPOS
For those in business and seeking ways to generate a greater level of income, the Small Business Expos provide the opportunity help business owners to learn and increase the size and revenues for their business.
Small Business Expos Locations 
Brisbane
Redlands/Logan
Moreton Bay/North Brisbane
Gold Coast
Brisbane West/Ipswich
Toowoomba
There are no better events in South East Queensland that provide the opportunity to talk face-to-face with contemporaries and fellow business owners to end users across a broad range of business opportunities.
The Small Business Expos are vital business-to-business expos for small, medium and large businesses and brand owners.
The South East Queensland Business Expos recognize the many challenges that business owners face, from increased competition in Australia and internationally from online sources.
Connect and Communication
With more than 8,000 businesses connecting each year and increasing steadily each year, our communications partnerships enable us to reach more than 66,000 business professionals across South East Queensland.
Our reach is in excess of 400,000 on social media & continues to grow each year.
The Small Business Expos has been embraced by the media and in 2018 was sponsored by Channel 9 and Channel Ten Regional Television Networks as well as Southern Cross Austereo Radio stations and in 2019 by 96.5 Family FM.
1022 exhibitors participated in the Small Business Expos in 2019 and more than 8,000 attendees (majority business owners) connected with other business owners resulting in $7.5 million in business leads.
 Giving Back to the Community
In 2018, Small Business Expos donated to 11 charities and continues to grow as it "gives back to the community". In 2019, 20 charities were supported. We work with Rotary Groups across South East Queensland and have raised $10,000 in funds for their community programs.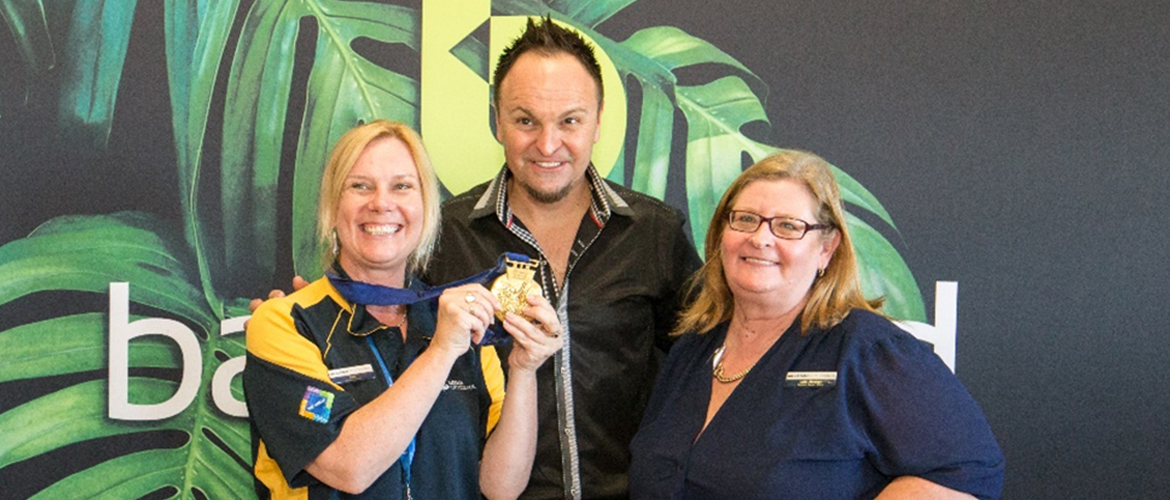 The founder of Small Business Expos
Paula Brand is the CEO of Small Business Expos. Paula is an advocate for 'invisible" small businesses (mobile, micro, online and homebased) which make up one third of the small business community.
With 24 years of event and industry development experience across Queensland and the rest of Australia, she has won a series of industry awards:
WINNER 2019 International Stevie Award – Small Business Champion
WINNER 2019 Gold Coast Women in Business Award – Small Business Chamption
WINNER 2017 Ambassador Small Business-Homebased Business Community – International Women's Day – Women at Work Awards
WINNER 2017 Awardee of Merit – Gold Coast Women in Business Awards – Community Category
WINNER 2016 Empowered Biz Mums- Leadership Award
The Small Business Expos Advisory Board
Small Business Expos has a four-member Advisory Board to assist with branding, strategy, business operations, crisis management and policy advice. Lean more about each member by clicking the profiles below.
David Power
David Power was the youngest Councillor ever elected to the Albert Shire in 1991 prior to amalgamatation with Gold Coast City. He became Chair of Planning North and Chair of Strategic Planning upon amalgamation and held Strategic Planning until his retirement in 2007. He was Deputy Mayor from 2004 till 2007 and is recognised as one of the foremost experts on City management and planning in Australia having since provided consulting services nationally and internationally. He is the only elected representative to be invited to take full membrship of the Planning Institute of Australia without a formal planning degree. He is the intitiator and strategist of the Gold Coast Light Rail, Gold Coast Marine Precinct, Gold Coast Knowledge Precinct and the largest urban water conservation strategy in the Southern Hemisphere. He has consulted to Government Departments such as Infrastructure Australia as well as the private sector. He currently is Chairman of the Board for Resilere Group Ltd, is Vice Chairman of the Australia China Chamber of CEOs, a strategic advisor to the Small Business Association of Australia and continues to provide mentoring and management consulting services to small business.
Jim Burkett
Jim's experience spans global corporations, SMEs and start-ups through supporting their strategic operations and trading. His last role was as an Asia Pacific General Manager of a specialised department for a Fortune 500 U.S. based multinational. Jim brings strong leadership, agility and commercial acumen combined with extensive experience across diverse projects, cultures and industries. Fostering local business success ensuring collaboration and granting positive market sentiment are the main reasons for his involvement in Small Business Expos.
Lars Halvorsen
Lars Halvorsen began his career in the media and advertising as a cadet journalist with his hometown newspaper in North Queensland. He soon moved to radio as an announcer, writer and producer and worked in various roles in radio and television all over Australia including Cairns, Tasmania, Perth, Brisbane, Melbourne and Los Angeles. Lars has created some of the most successful and memorable advertising campaigns for some of Australia's most successful brands, including: The Coffee Club, Brisbane Broncos, Credit Union Australia, Ergon Energy, Cadbury, Woolworths, Ideal Electrical Suppliers, The MS Society of Australia, and Stockland just to name a few. Lars has a wealth of international experience, credentials and creative expertise in brand building, differentiation and franchising across a range of industries including: retail, fast food, travel, destination marketing, tourism, financial services, property, real estate, automotive, energy and climate change. Lars is a multi-international, award-winning creative advertising writer, conceptualist, brand architect, and marketing strategist with experience in every advertising medium in Australia, Canada and the United States. Lars also offers proven skills and talents as a creative writer, producer, director and sound engineer for both radio and television, and is acknowledged as one of Australia's best skilled "creative advertising and marketing ideas people".
Living with IT Pty Ltd (ABN 35 600 126 476) trading as Small Business Expos.